A Small Style Update: Camouflage Cargo Pants
To me , I've always stayed below the line of 'extra', and definitely stayed in my comfort zone . If I'm honest , i don't really see the appeal to be daring and distinguish my style according to how others dress . I'd rather be comfy and casual , as long as I'm not complaining about growing tightness in my derrière. That said , sometimes it's acceptable to want to venture out and try new things , or in my case , have an excuse to borrow some money from my parents .
As I'm now approaching the two month break they call summer , or in my case , with no money or job 'bummer', I've started to advance towards a wider spectrum of choices within the trousers and jeans area , and so when scrolling through the endless results on New Look on the earlier hours of Saturday morning , I crawled upon these trousers .
The Cameo Rose Camo Cargo Pants , combines and casual and cultural etiquette which not only teams well with a black cropped tee ( as shown above), but you'll find they are quite comfortable and easy to move around in . As long as you don't mind the minor swishing sound they make as you walk through the day.
As I've scoured Pinterest , here's a few ideas on how to style them (tagged the accounts and linked ).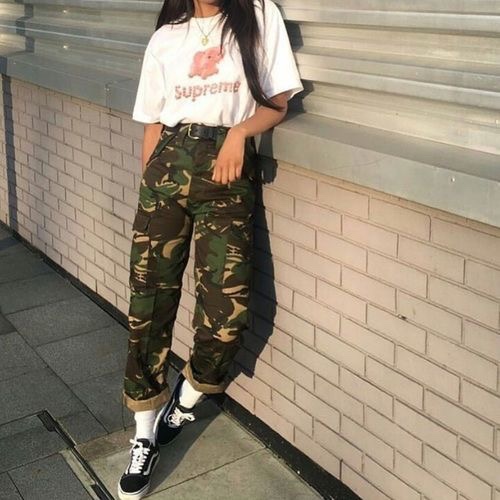 I know it's easier said than done ( total lie), nail the effortless and 'i just threw this on' look by styling the trousers with a baggy tee , to add a confident and casual look to the outfit .
Now if you'll excuse me ,
I've got to dig out my old band t'shirts and totally not try karate in order to impersonate a younger Kim Possible .
Have a great week,
Love Meg xx